: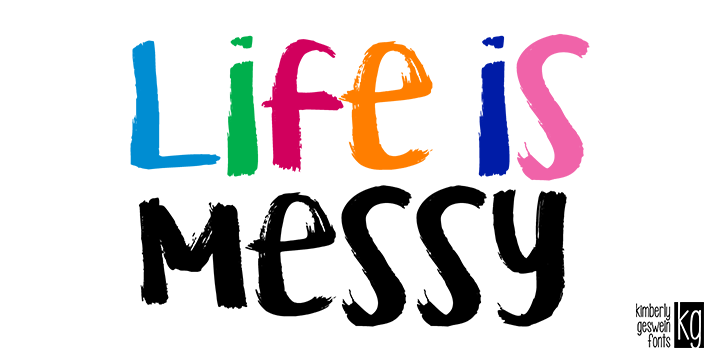 Life is messy. That's just the way it is. There are always problems to deal with. There are always people who will put you down for your choices. There are people you love, and you can't make love you. There are times your body is incapable of healing itself and sickness takes over. You'll fail. You'll fall. You'll be sad, lonely, terrified, and confused through a lot of it.
Without all those trials and difficult times, do you think you would have learned the lessons that you were meant to learn from them.  We curse the hard times so often asking God, "What did I do to deserve this? Why is this happening to me?"
The truth is, that without all the difficult times, the easy times wouldn't feel as easy.
Without the struggles, you wouldn't recognize the smooth moments.
Without the pain, you wouldn't recognize the painless.
Life is about balance. 
Ecclesiastes 3:1-8 says
"For everything there is a season, and a time for every purpose under heaven: a time to be born, and a time to die; a time to plant, and a time to pluck up that which is planted; a time to kill, and a time to heal; a time to break down, and a time to build up; a time to weep, and a time to laugh; a time to mourn, and a time to dance; a time to cast away stones, and a time to gather stones together; a time to embrace, and a time to refrain from embracing; a time to seek, and a time to lose; a time to keep, and a time to cast away; a time to rend, and a time to sew; a time to keep silence, and a time to speak; a time to love, and a time to hate; a time for war, and a time for peace."
So what if your life isn't going the way you planned. Good, because your plans are nothing compared to the Lord's plan.
So what if your life is messy or embarrassing. It has a purpose. Maybe those choices you made that you're embarrassed about will help someone make it through the same type of situation and make a better choice than you did.
Maybe you need humility. Maybe others need to see how you deal with pressure and stress.  Maybe we don't even have to know the "WHY?" 
Part of the balance is the faith you have inside you that punches through the walls of the enemies oppression. The Spirit that guides you. The power of the Lord to "save" you from challenging situations. 
If you're wondering why God allows your life to continue to be disrupted by forces out of your control, it's because when you lose control, He gains control. 
"Many are the plans in a person's heart, but it is the Lord's purpose that prevails."
Proverbs 19:21
So, let life be messy. Jump in the mess and find the purpose of it.
You are loved by the Creator of the Universe. So…
For more blog posts from Stone Soup & Daily Bread, follow us. Here are some other posts you might be interested in:
Constant Dripping Hollows a Stone
https://dailypost.wordpress.com/prompts/messy/